Lenza Wilson's Utah Southern Machine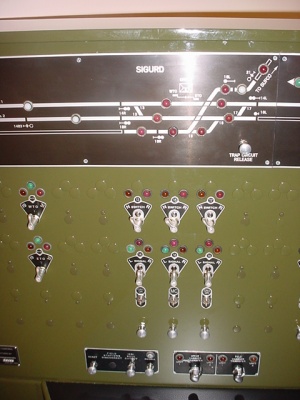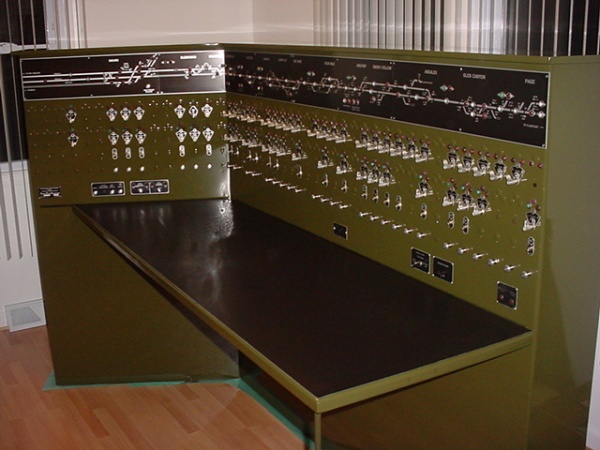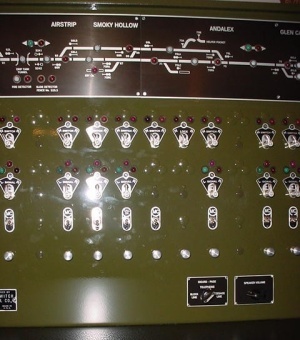 I began designing a large prototype freelance layout, the Utah Southern, in the early 1990's. Signaling, particularly CTC has always been one of the most enthralling aspects of model railroading for me and from the outset I determined that it would be utilized to dispatch my layout. I work as an industrial electrician and had few concerns about designing and wiring a Computer/Model Railroad Interface and the necessary signal logic. Figuring out how to build a realistic control machine proved to be a source of indigestion and many sleepless nights until I found Control Train Components.
Originally I attempted to build a reasonable facsimile of a Union Switch & Signal machine which didn't look too bad until I compared it with prototype photos. The ghastly shortcomings of this attempt firmly convinced me that I needed to follow prototype practices rather than taking an artistic woodworking approach to the cabinet and liberal use of "close enough" design.
Later, I spent months looking unsuccessfully for prototype CTC machine components and quizzing my railroading contacts in a stubborn attempt to build this project myself. World War II era issues of Railway Age Magazine and several General Railway Signal textbooks in the University of Utah Library provided me with most of the information needed but I still had no idea how to build an accurate machine.
By the early summer of 2004, I had completed a building for the railroad and after ten years of planning, I knew exactly what the layout would look like. When I finally got up the ambition to call Rod Loder to see what CTC parts he had available, he told me that he had sold his business to Mike Burgett and referred me to his website. During my first call to Mike, I became instantly convinced that I should contract with him to build a complete CTC machine based largely on Southern Pacific practices.
After several preliminary discussions, we began to send drawings and files back and forth and made countless revisions to component layout, track models and the like. While the scope of the project was enormous, Mike was a font of information and handled the project beyond my expectations. He was able to either find or replicate all the parts needed to build a completely accurate pre WWII machine. The only compromise we made was to build the cabinets eight rather than sixteen inches deep because of a significant fabrication price difference and to save space in my dispatching office.
Because of the high cost of shipping such large cabinets and my curiosity to see Mike's own machine and layout, I drove from Southern Utah to Michigan to pick up the cabinets in April, 2005. Mike was kind enough to arrange operating sessions on several magnificent layouts in the region and was an excellent host.
Mike Burgett and his company are the best resource for signaling and CTC components anywhere in the hobby. While the logistics to design, transport, and install this machine may likely be greater than any other single part of building my layout, it was entirely worth the effort.
 Lenza Wilson, Escalante, Utah